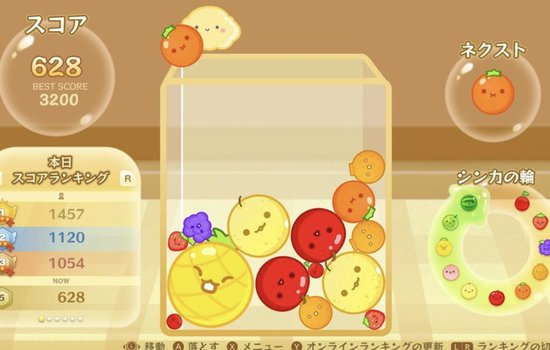 Gaming
Suika Game, Popularly Known as Watermelon Game, Debuts Globally on Nintendo Switch
Suika Games, also known as Watermelon Game, has become a worldwide sensation on the Nintendo Switch, following its remarkable viral success. This engaging puzzle game presents players with the challenge of achieving high scores by strategically dropping and combining fruits of the same type.
Originally released in December 2021, Suika Games saw a sudden surge in popularity, primarily thanks to VTubers in Japan. The game's acclaim reached new heights in September 2023 when it topped the eShop download charts in Japan. However, its fame didn't stop there.
Western streamers, including Ludwig and LilyPichu, played a significant role in bringing the game into the international spotlight. Their enthusiasm for the game led to a surge in its popularity outside of Japan.
Previously, Suika Games was exclusively available on the Japanese eShop, necessitating anyone interested in playing it outside of Japan to create a Japanese Nintendo account. However, that changed on October 20, when the game became available for international purchase through the eShop. It's priced at £2.69 in the UK and $2.99 in the US.
The only minor catch is that the game doesn't offer language settings, so you'll be playing it in Japanese. Fortunately, since it's a puzzle game, the language barrier shouldn't pose a significant obstacle to enjoyment.
Suika Games has earned a reputation for being both charming and addictive. Although it's easy to pick up and play, achieving a high score can be quite challenging, as it involves skillfully managing the positioning of larger fruits and considering the physics of how different fruits interact.
In this game, when two fruits of the same type combine, they create a new and larger fruit. For example, two cherries make a strawberry, two strawberries make grapes, and so on, with the largest fruit being a watermelon. The game ends if any fruit spills over the top of the box.
Amidst this buzz, it's also a significant week for the Nintendo Switch. The release of Super Mario Bros. Wonder, Mario's latest 2D platforming adventure, has garnered glowing reviews. Additionally, F-Zero 99 has received an exciting update, introducing three new tracks and the King League Grand Prix into the rotation.
Suika Games, or Watermelon Game, is now available on Nintendo Switch worldwide. Experience the fun and challenge yourself to top the leaderboards in this captivating puzzler.